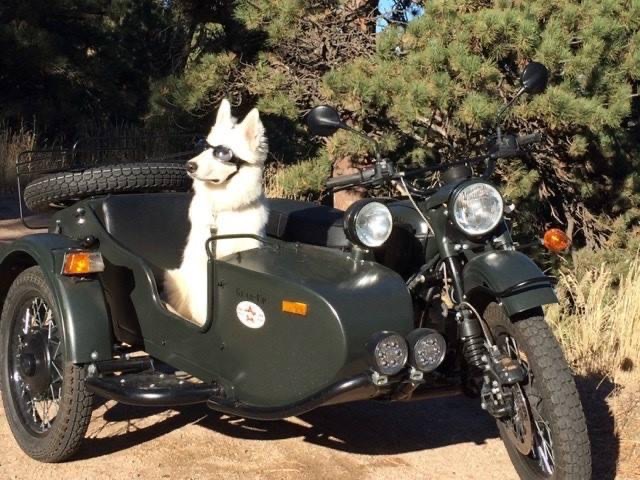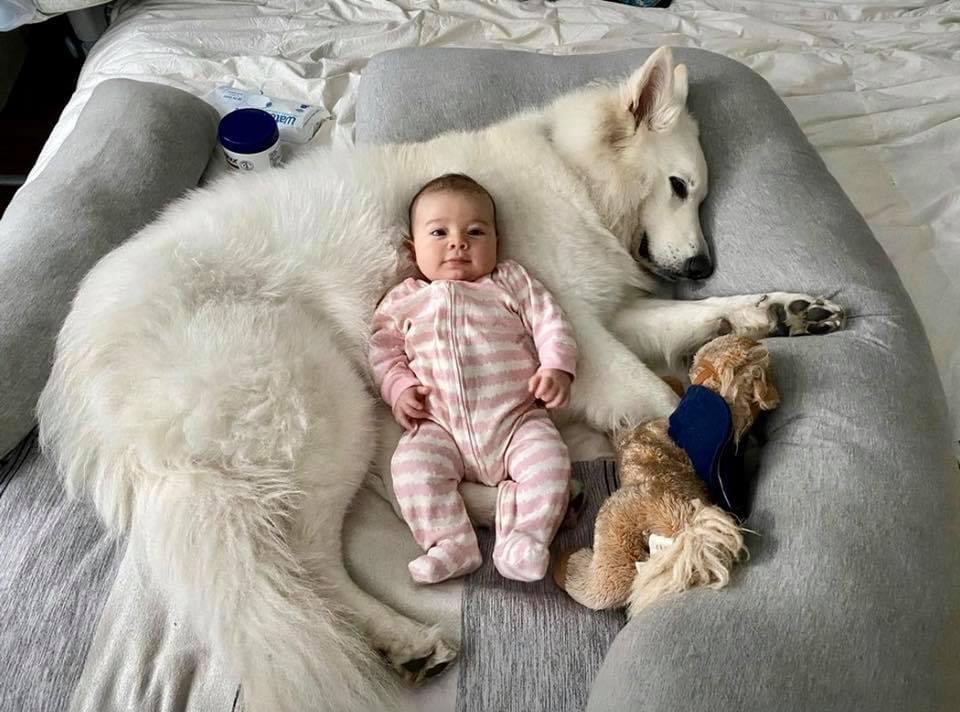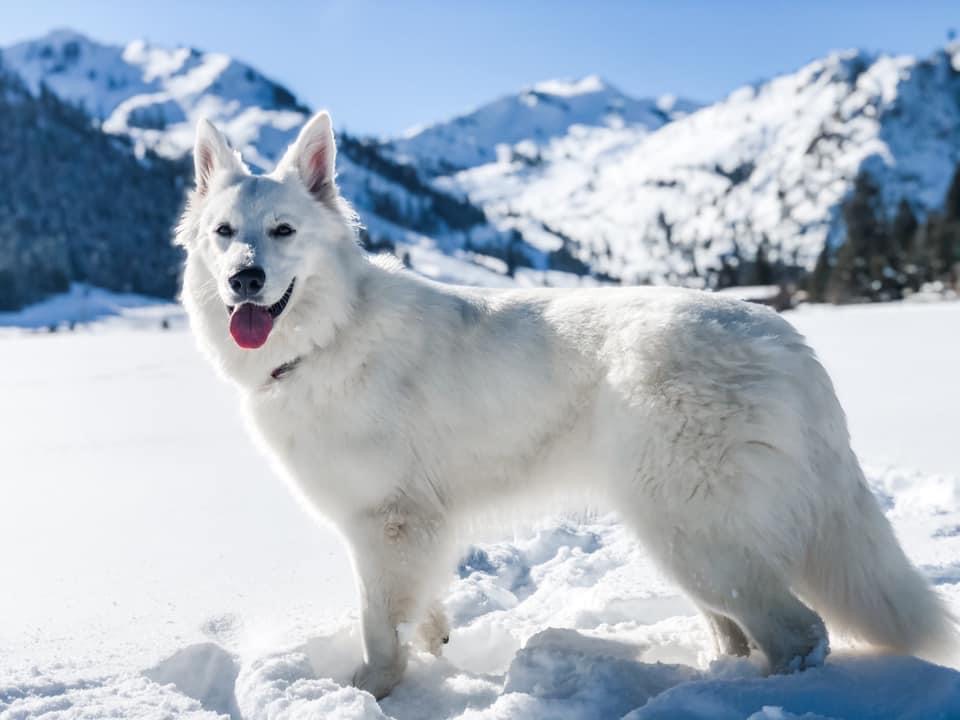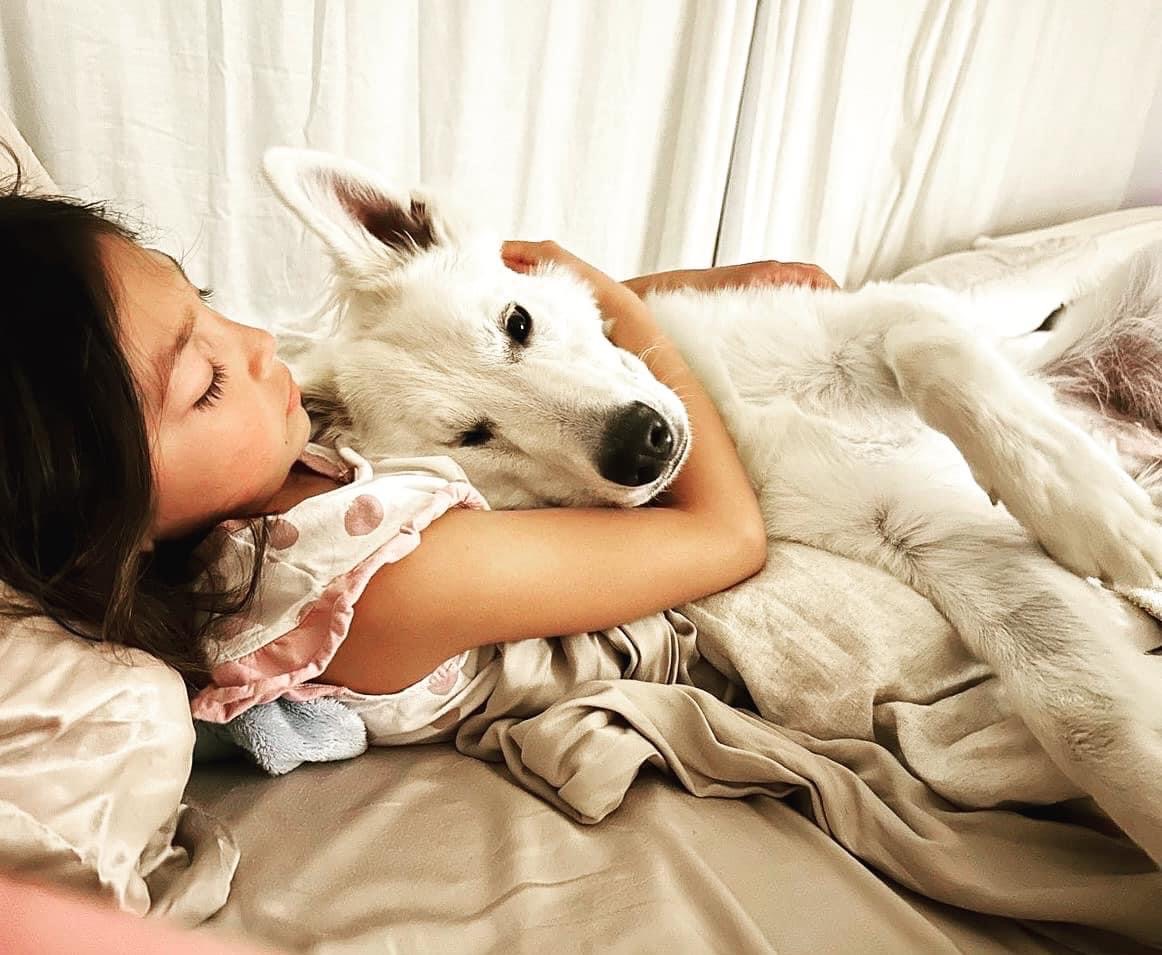 Where to begin…..
There are two parts to this.  One is outlining the breed, and one is the Breeder, Dances with Wolves Ranch.  I have waited until now to see how our puppy develops before I wrote about the breed and my observations.  She is now four months old. Simona Ridenour has probably the most extensive and in depth understanding of the Berger Blanc Suisse breed.  She loves the science of behavior in dogs, and truly is the most careful in her breeding program.  Simona is extremely knowledgeable and goes beyond in her love and care for the breed.  With that said it means in turn for her puppies is that they are healthy, not over bred, calm, and have the utmost best conditions for a lifetime of a quality companion.  She cares to do the correct management of breeding.  It is not quantity it is quality. The environment in which they are bred is also one that sets the tone for a well adjusted happy dog.  You can tell they are within a family, and are always nurtured in every way.  The Ranch is beautifully set in the mountains with lots of space for happy dogs.  Her dogs are all friendly very loving and absolutely stunning.  Simona you can tell spends much time caring for her dog family, and its a priority for her.  Our puppy is so smart, curious, playful and mellow.  Most of all she is healthy.  To me this was extremely important that the breed is overall sound medically and not predisposed towards certain diseases or genetic weaknesses.  This comes from solid breeding and care.  Their personalities are simply amazing.  I have had many large breeds.  The BBS dogs are gentle, loving, obedient, smart, alert, curious, athletic and so much fun.  And indescribably beautiful.  I feel over the moon to be so lucky to have one of these absolutely magnificent dogs.  Waiting the three months (we did puppy academy) to receive our puppy was very hard for me.  I seriously counted the days until I could meet her.  Simona sent weekly photos of the litter and all the puppies, which I waited for like an expectant Mother.  The updates were so wonderful to receive and see the progress and growth of the puppies.  The day we received the photo of our dog I actually cried when I finally knew which dog was mine.  Puppy academy is able to provide an extremely well adjusted and happy dog.  The trainer is outstanding.  Of course the training makes life easier for the owners, but what the puppy is exposed to and taught is immeasurable for them down the road.  Puppies are exposed to a routine, a variety of environments, riding in a car, and other dogs to interact and socialize with.  And they receive much love and gentle care.  I can attest to that because I see that in Ellie.  I would only ever choose a dog from Dances with Wolves Ranch, and I would always choose a Berger Blanc Suisse dog.
Simone, UT
***
I highly recommend Dances with Wolves Ranch.  We spent a lot of time researching White Swiss Shepherd breeders for over a year trying to find the perfect one.  We came across Simona's website and were amazed at her knowledge of the breed, attention and care for her dogs, and her commitment to the development of this breed.   She is very personable, organized, easy to work with, and provides lots of good information.  We were lucky enough to visit her kennel which was immaculate.   One of the main reasons we ended up purchasing a puppy from Simona was because she does a superb job of breeding dogs with a gentle temperament…this is her passion.  Her description of her dogs on her website is spot on.  We were truly satisfied with the entire process and with our puppy Jasper.   We highly recommend Dances with Wolves Ranch!
Kaleena and Chris, CA
***
Sky is the most amazing, magical, sweet girl! Simona went above and beyond to get her to me, Debbie ( trainer ) made herself available for any questions I had, helped me via text and phone get Sky settled once she got here. Sky is smart, came to me so well trained for a 14 week old puppy, she is just the most amazing puppy. I appreciate everything Simona and Debbie did to make her a part of our family. Can you tell I am in love?! Thank you Dances with Wolves. I am one lucky puppy mama!
Cat, NM
***
Emily and I put substantial front-end work into deciding what kind of dog we'd get before ultimately settling on a BBS with our desire to have a great family dog with a calm temperament that is highly trainable and stunningly beautiful to boot. After deciding on the breed, we spoke to multiple breeders to understand their philosophies and program. From our conversations with Simona, it was clear that her approach to breeding is extremely thoughtful and programmatic and that she is enthusiastic about her dogs and extremely honest and patient in talking to her potential clients.Our puppy Winnie (born in the January 2018 litter to Misha and Ice) has exceeded all our expectations. She acclimated to her new home and family immediately and was extremely easy to house break, crate train and teach basic obedience commands from the second she came into our lives. She is now almost 8 months old and it is hard to believe she is still a puppy given the rate of her physical and mental maturation – her temperament is incredibly calm for a dog of her age and her behavior and obedience is unbelievable for a dog of any age. Not only is she able to listen and perform a variety of tasks and commands, but she adapts to the prevailing mood in the home –  no matter the activity – always looking to us to cue her behavior. Her personality is incredibly loving and she is the most affectionate dog that I have ever met, always willing to snuggle with us on the couch, bed or floor. Her intelligence, obedience and the level of focus and discipline that she displays is uncanny and nearly humanlike and she is an unbelievably confident dog who remains poised in nearly every new situation whether it be a new person, surrounding or obstacle. She exudes happiness and thrives when being physically exercised and mentally challenged. In short, she is everything that we had wanted in a dog and continues to exceed our even our most lofty of expectations. We look forward to seeing what she'll be like as she emerges from puppyhood and enters adulthood. The quality of our dog undoubtedly starts with Simona and her breeding program. Simona is meticulous in her approach and has chosen only the best dogs to breed and she provides loving care for the puppies once they're born and through the time they go to their forever homes (which in our case included Simona helping to coordinate a shipment by air). Simona is patient with her clients and answers all their questions and continues to respond to us with professionalism and enthusiasm as we send her numerous pictures and videos of Winnie as she grows up and goes on new adventures with us – we truly feel like we're part of the DWWR family.To put simply, we couldn't imagine having a better dog or getting a dog from a better breeder. Winnie is truly an incredible puppy and we are already looking forward to welcoming another one of Simona's dogs into our family at some point in the future.
Michael & Emily, TX
***
I highly recommend working with Simona when wanting to bring a BBS into your family. We did a pretty extensive search, looking for the right breeder to meet our needs and we were so lucky to have come across Simona and her white pack! Since the first day I reached out with interest, Simona has been kind, communicative, organized and so lovely to work with. The whole process of bringing our puppy home was seamless and we couldn't have asked for anything more. Even after our pup arrived home, she continues to be a resource of wisdom, always willing to answer my questions. Not only was working with Simona a great experience, but the joy continues with our puppy; she did such a good job matching us with the puppy that would be the best fit for us. Our little guy is friendly, super smart and even-tempered. The vet has given us feedback about how impressed she is with his maturity and temperament at such a young age and everyone compliments him on how handsome he is. (He's barely just 10 weeks old!) We look forward to many years of our pup bringing joy and warmth into our home all thanks to Simona!
Mindy, WA
***
I am writing this note to thank Simona and her family for raising such a wonderful pup (dog) we named "Belle"…..Belle turned 6 months on Sept. 23, 2016.  Number one, next to my wife and daughters she is the most beautiful little girl you can imagine…  Belle is extremely smart and has forced me to sharpen up my game..  Belle has been every bit a puppy growing up, but behaves incredibly well with kids and other dogs..  Belle is not what you might call an alpha female, which seems to give her an incredibly "sweet" disposition.  Please don't misunderstand me, Belle can certianly take care of herself among other dogs and people, but Belle seems to keep herself under self control ( we haven't experienced having to chase her here and there.  My wife and I would like to thank Simona's continued  work and effort to refine this incredible breed… a "Berger Blanc Swiss Shepard"… We were very fortunate to have Debbie give our "Belle" four weeks at school..  Debbie has given "Belle" a great foundation to continue to learn how to be a great dog…Thank you ….
Grant & Phyllis, CA
***
Lily is the best pup we've ever owned. Her intelligence is unsurpassed. Her loyalty and listening skills are superb. Her love and affection toward other pets and her people is undeniable. We highly recommend the pups from Dances with Wolves Ranch. You wont regret your decision.
Sonja and Aaron, WA
***
We had nothing but positive experiences with Simona and Dances with Wolves Ranch. Our puppy arrived on time and showed clear signs of a loving first few weeks of life on the ranch. Simona is always available for questions and has proven a tremendous resource on both information on the breed as well as on how best to accustom the puppy to his new home. We are very grateful to Dances with Wolves Ranch for the new addition to our family and wish them all the best and much continued success with the cutest puppies in the world!
Taya, NY
***
My Dances With Wolves puppy is very sweet-natured and loving but also so smart.  She was house trained two days after she arrived, dutifully ringing the potty bells we set up by the door.  She is a sweetie and a wonderful addition to our family.
Margaret, NM
***
Simona and the Dances With Wolves Ranch are in a league of their own. Simona is extremely passionate and professional which shines through in both the physical appearance and temperament of her dogs. I was able to learn more about the breed and interact with the litter before selecting my puppy, Dash. Dash has been a terrific addition to my life. Just shy of 3 months old, he is learning a new trick every week, super sweet and very well-behaved. He's easily one of the most patient puppies I've spent time with. Simona & her dogs are definitely the way to go!
Francisco, CA
***
I am remiss in not writing before to tell you how much joy Una has brought into everyone's life here. She is everything I hoped she would be but more….Super friendly, intelligent, calm and beautiful.  She is also unbelievably trainable. Most of the time it only take a couple of repetitions for her to "get" a new command and she is already reliable in five basic commands!  She has come to work with me at a preschool daily and simply loves the children. As soon as we get out of the car she pulls me to the door of the school with her tail wagging. Each evening she is reluctant to leave. Even children who were afraid of dogs have gotten over it thanks to her loving nature. As she matures she is becoming incredibly athletic and really enjoys playing fetch something we never had to teach her . She simply loves to return various thrown objects and can spend hours entertaining herself galloping around the yard enjoying her toys. This week we walked three miles around a lake with no tugs on her leash which is unheard of for a four month old puppy. Although we are entering the most challenging stage of dog ownership we continue to love her more every day. Surely she is a testimony to your wonderful breeding program and to the great early socialization you give to your puppies
Jane, CA
***
From the moment we picked Snow up from the airport it became very apparent that we made the right decision in choosing to get a dog from Simona.    He arrived to us as a two year old, completely trained,  and perfect in every way.  I've previously owned very smart breeds.  German Shepherd, Border Collie and some great rescue dogs.  Snow has set a new standard.  Not only is he incredibly beautiful, he's SUPER smart, and oh so loyal.  He goes everywhere with me from the golf course, to horse shows and loves running around our ranch with his new siblings.  What a joy it is to have a dog with his temperament!   We could not be any happier with our new boy.
Jana, Nebraska
***
We have a happy, sweet five-month-old Berger Blanc Suisse girl that we adopted from Simona recently.  She is exactly what I had hoped for in a new puppy addition to our family, and brings us happiness every day.  My wife and I first noticed a BBS while out one day and were awestruck by its beauty, dignity, and temperament – if you own a BBS you will encounter this reaction often from people you meet when out with your dog.  I have found that dog lovers are fascinated not just by their beauty but also by how calm and self-possessed they are in comparison to other breeds.  Simona's website and the details she provided were very reassuring, and she was always helpful and welcoming when I asked questions (in contrast to some breeders I had encountered when looking at other breeds).  I appreciated that Simona was attentive and accommodating throughout the entire process and listened carefully to our particular needs, i.e., a dog with a sweet and calm temperament for a family with young children.  We chose to do the puppy academy, which worked out very well, and our puppy came with a basic understanding of key commands that we are still using today.  I can't say enough how happy I am that we opted for the BBS breed and that we were fortunate enough to work with a breeder like Simona.  Most of all, I'm thrilled with our new puppy and enjoy seeing her every day and watching her become a part of our family.
Michael, CA
***
We have to miss this years reunion because my son has a week off from college and really needs to come home and chill out. I can't begin to tell you how much we all adore Una. Truly the most joyous beautiful intelligent puppy I've ever known. We are seriously thinking about getting another one but want to get her fully trained before we create a dog pack. I have never had so much fun with a dog before. Thank you for creating such a marvelous creature. And thanks for always being there when I have a question.
Jane, CA
***
Simona is a one of a kind breeder, who is raising incredible litters. Just under three weeks ago, I picked up Inga, who is not quite eleven weeks old. She is my second Berger Blanc Suisse from Simona. My first, Summit is now 18 months old. Of course they are gorgeous, everyone who sees them remarks on their beauty. However, more importantly they have the kindest dispositions. They are total sweetness and love with great intelligence. Summit is wonderful with children. He is so gentle that even two year olds love to play with him. Summit and Inga bonded immediately. They are best friends, and have already given me endless hours of fun. With both purchases, Simona has been terrific. She sends photos of the litters throughout their development. Keeps you up to date with all that is going on, and always answers questions very completely and very quickly. She also is very accommodating as to pick up date and time. With both dogs I had to pick up my dogs at odd times, and Simona was perfectly fine in changing to my needs. Her ranch is outstanding for raising these wonderful animals. I have had German shepherds for over fifty years, both white and black and tan. Simona is by far the best breeder that I have ever used. These dogs are just so exceptional. Thank you Simona.
***
I can't believe that it has been seven weeks since I picked up Inga. She is terrific! I realize that I did not write much about her when I was writing the testimonial. Every time I started to write I would tear up thinking how much Ingrid would have loved her. Inga has been to the vet every two weeks for shots. She goes for her forth time next Monday, and her health is great. She is so confident, and completely independent. She has been housebroken for over two weeks, and obviously very intelligent. So intelligent that she has taken to attack volumes of Shakespeare in my bookcase. LOL
Now She bounds around the yard trying to keep up with Summit. Can't do that yet, but she gets taller and stronger every day. Summit and Inga are terrific together. They keep me hopping. Summit demands to have tennis balls thrown so that he can chase them. I don't know if you remember, but I mentioned how difficult it was for me to give Summit medicine. You suggested that I give Summit pieces of hot dogs and then put the medicine in a piece. Summit is so finicky that he wouldn't even take the plain hot dog. I just grind it up and give it to him in a hamburger. He is a gourmet. I figure that I will have to neuter him in the next three months. He will be 21 months old at that time. Thank you again for these wonderful dogs.
Steve, FL
***
From childhood our family had Golden Retrievers, but the decline of breed quality in the US has lead to a high number of health issues and shortened life spans. My mother and I tragically lost our most recent goldens two months apart from each other, leaving our household very empty and quiet. I took some time to figure out what to do next, knowing very well that I was going to look for another dog being a runner, hiker, lake and mountain goer. One day I was on a jogging dirt trail and ahead I saw a young lady walking with her white dog. It was unlike any dog I've ever seen, with a graceful white poofy tail whipping through the breeze. I knew I had to stop and ask her what breed it was… and she replied "a Berger Blanc Suisse." She shared the name of the breeder, telling me to Google search "Dances with Wolves Ranch." I'm so glad I did!  After a lot of research and careful consideration I reached out to Simona, and I knew right away I found the right breeder. It's obvious that Simona pours her heart and soul into this breed and cares so much for her dogs. She truly understands animal behavior and genetics, and how those factors affect overall temperament. When the pups were born [during the 2017 eclipse!] it was wonderful to receive Simona's weekly updates–the pups grow so fast–and straight away you can see the results of selective and responsible breeding. Simona took time to answer all my questions before and after I picked up my lovely little Sierra, providing practical, solid advice as needed. I've never had a dog who makes this much eye contact at such a young age. She's so connected to humans and its completely evident in her eyes. She's only 11 weeks at the time of me writing this, but I'm incredibly impressed with this puppy. I couldn't be happier. I've raised MUCH more difficult Golden Retrievers. Sierra amazes me everyday.
She's already learned a number of commands and tricks, loves to run through her agility tunnel, does amazing in the car, whines at the door to go potty [will be completely house broken once her bladder is bigger!] and her response to random noise and other stimuli is very predictable. Sierra is a bit of an old soul with puppy pizazz, showing clear evidence she'll be a calm adult with a 'ready to boogie' attitude when adventure is on the menu. I have a feeling this dog will learn to do just about anything I teach her with ease. Sierra clearly has amazing potential. My mother and I absolutely love Sierra and would recommend Dances with Wolves Ranch to anyone looking for an amazing dog with a stellar temperament. Professional breeders like Simona are very rare, and the experience she provides will be as special and unique as her dogs. If I ever decide to expand my furry-family again, I wouldn't go anywhere else. Thank you DWWR for our little Sierra, we absolutely love her!
Geri, CA
***
Pearl is incredible. I was just diagnosed with severe diabetes. Pearl's tugs and nibbles at certain times each day (to make me eat and rest) now make perfect sense. She also prompts me to leave unhealthy or stressful work situations (smart girl!) She is very attentive; stays with me at all times and is always checking up on me; like a nurse. She wakes me with a wag and a kiss and arouses me if there is a nightmare. If I am feeling overwhelmed or sad, she immediately picks up on it and comes over to "make" me pet her by bumping my elbow with her pretty nose. Follows me to the restroom to make sure I am ok, etc. etc. I think it is fair to qualify her as a diabetic-alert dog, as well as a service dog now.  I will start to document her behaviors with correlation to blood sugars for the record. Her intelligence, sensitivity and beauty are in a class of their own. Thank you so much for bringing her to me when she was most needed.
Elizabeth, Hawaii
***
It is difficult to find the words that describe our gratitude for Simona. Dances with Wolves has gone above and beyond our expectations! Our sweet little Roan is the perfect addition to our family, in the 7 weeks we've had him he's been on dozens of road trips and tagged along on adventures like he's been doing it for years. At 15 weeks of age, Roan walks quietly on the leash and has been eager to learn basic commands. He truly is the most laid back puppy and we've received numerous compliments on his behavior and personality. Simona has also been there for us every step of the way. We feel so comfortable knowing we can contact her at any time and she'll be there to answer any questions we may have, or just genuinely enjoy keeping in touch! Finding and selecting a breeder is very stressful and we are beyond pleased with the choice we have made. This is a breeder that truly loves her puppies. Our little boy is a dream come true and we will forever be grateful to Dances with Wolves.
Shandra, CA
***
Simona and the Dancing With Wolves Ranch are in a league of their own. Simona is extremely passionate and professional which shines through in both the physical appearance and temperament of her dogs. I was able to learn more about the breed and interact with the litter before selecting my puppy, Dash. Dash has been a terrific addition to my life. Just shy of 3 months old, he is learning a new trick every week, super sweet and very well-behaved. He's easily one of the most patient puppies I've spent time with. Simona & her dogs are definitely the way to go!
Francisco, CA
***
Last month our white beauty shepherd passed away, just a few months before her 12th birthday.  We were absolutely devastated and incredibly heartbroken.   Immediately, I went on the internet to search for a puppy that would rescue us and capture our hearts.  I found several sites for White Shepherd Breeders and most seemed very acceptable, but one Breeder in particular, stood out from all the rest, and that was Dances With Wolves Ranch (DWWR).
I found that their website was very informative and educational and captured the Total Essence of our white beauty shepherd – absolutely beautiful, extremely intelligent, very loving and friendly  and so very alert and so very very happy.  You can see all these traits in their shepherds throughout their website and you can see that their shepherds,  so love their  "humans"  ….. : )
Upon contacting them, I learned that one of their Moms just had a litter and one little girl was available. When we went to pick up our little girl (just last week 3/3/18) DWWR was everything that was portrayed in their web site and in our discussions with Simona. DWWR is just outside of Los Angeles and sits in a ranch like setting.  Their home is beautiful and their Shepherd are very well cared for.   Our little girl bonded with us immediately and we have been inseparable since.  She trained us instantly, with just one look into her precious little eyes!
We feel so very Blessed to have her in our lives!
Extra Special Thank Yous!
Communication with Simona from the very beginning was so absolutely excellent. I feel that not only are we part of the DWWR family, but I feel I've made a wonderful friend!  Thank you Simona!!!

We love our baby's Mother Misha and recently retired Father Winter and we would like to thank them with a big hug for raising and letting us have one of their little girls.
Robin, CA
***
Winnie is seriously the most amazing dog ever. This is my first time owning my own dog (I grew up with them but have never had my own) and it has been the most positive experience.  Simona has always been available to answer questions and help us along the way. The second we got her she became a part of our family. Winnie is extremely smart and matches her temper to ours. She knows when to be calm and when it is time to relax or when to play and be excited. She's the quickest learner, we enrolled her in a puppy training class and she was the STAR!!!! She won every contest and was named "super dawg." She's only 5 months old and is calm like an adult dog and smarter than all of the puppies around her. I can't wait for her to see how she will be as an adult. Additionally,  Winnie is gorgeous!!! We can't go anywhere without someone stopping us and commenting on her looks, she is a stunner. I've never been happier and loved something so much. I want another!!!!
Emily, TX
***
Simona is a trustworthy person! She helped us find Pista, a perfect dog for us. Pista is only ten weeks old, but he is very happy to learn some simple words, such as sit and come. BBS is a very friendly and welcoming breed. They are wonderful for families with children or other pets. I also have a two-year-old cat. Pista learned how to get along with the cat in only a few days, which surprised me. Thanks to Simona for her recommendation and help.
Vicky, OH
***
Simona is amazing. She was able to pair us with the perfect puppy after we had to put down our Shepherd. We wanted a smaller girl and we have met her twice and she's perfect. We were able to put our girl in puppy academy and apparently she is super smart. Debbie is excellent with communications since I am a helicopter mom. Her facility is spotless and you can see the care she has put in making sure the puppies are safe, healthy and well cared for. I can't wait to be part of the BBS family and DWW.
Ana, CA
***
Sherry and I live in Washoe Valley, Nevada and we are fortunate to have space to own and care for three or four large dogs at a time.  For nearly thirty years we have loved and played with many dogs, mainly German Shepherds.  It's a huge commitment of time and resources but it has been the wisest investments we have ever made. About five years ago, we started to research the next dog we wished to purchase and found Simona and Dancing With Wolves Ranch and the White Swiss Shepherd breed. We travelled to see her in Agua Dulce, California.  It was the most professional, loving and caring breeding operation I had ever experienced and I had visited many others around the western states.I was impressed with the scrutiny Simona engaged in to see if we were worthy of one of her puppies. I felt it might be easier for me to get into the Stanford MBA Program than to qualify for one of her prized dogs. We made it!  Nigel Jay Wiggins was the pick of the litter and he came back with us and integrated into our pack of three German Shepherds.  Nigel is a very confident dog but was a great member of our unique pack. Sammy was purchased from Simona 15 months ago when we lost, Sarge, an old rescue dog who lived his last three happy years with us. Nigel and Sammy had the same dad, Ice, a marvelous award winning dog that stays at Dancing With Wolves Ranch.  Sammy is a clown, always making us laugh with his creative love of adventure. Nigel became the lead dog and loves to protect the perimeter of our property. Moving forward to today, we just came home with Jody Beth and Zeke Tee, two puppies from the latest of Simona's litter. Wow!  These two are super busy as we gradually integrate them in with Nigel and Sammy. Oh, their papa was Ice as well. It is a beautiful and amusing scene to look out on our property as the four White Swiss Shepherds dance in the creek and chase each other on the mountainside.  I think I could get rich selling tickets in Reno and Carson City to the show they provide.
In closing, I wish to make three points:
1.  We have loved all of our dogs over the thirty years but these four White Swiss Shepherds are really special.
2.  To have even one large dog is a major job and a big responsibility.  I see far too many dog owners who are not either willing or capable to invest the time it takes.  If you are fortunate to qualify for one of Simona's dogs, make certain you have the space, the financial resources and the personality to love them for a lifetime.
3.  Sherry and I want our dogs to have good manners but we do not try to get them to fit into our human lifestyle, we wish to enter theirs.  I am a wiser and happier man to have been accepted into their world and to have picked up some of their wonderful traits.
Don & Sherry, NV
***
We purchased our pup Sigrun (female) this past year – her litter was born in November 2018 and we brought her home early January. She was 8 weeks old. Our entire experience with Simona completely exceeded our expectations – she was professional, responsive, always answered questions, and was completely transparent about her business and her dogs. She is one of the most knowledgeable and professional breeders I have ever met, and it shows in the quality of the dogs. Though I did not get Sigrun as a service dog, my plan was always to train her on par with service dogs when it came to public access, etc. At almost 7 months old, she has completely blown me away. She is sweet, affectionate, very in tune with me, biddable, eager to please and take direction, but also spunky, fun, with complete nerves of steel. She takes her cues from us, and is equally capable of going out and running and adventuring, or staying in and being calm. She is so good that I regularly take her to the office (she's currently sleeping under my desk), where she holds "place" and ignores people even when I have to step away from my desk.  I accidentally walked her through a thunderstorm and she didn't even blink. She has handles construction sites, air travel, buses, car travel, the vet, dogs lunging and barking, and has rarely lost her cool. This is a huge testament to Simona's breeding abilities, as well as her ability to pick the right puppy for each owner. I could not have imagined a more perfect dog.  If you're curious about my training with her or want to see what her life is like with us, check out our instagram account (instagram.com/sigrun_swiss_shepherd), I share a lot on her training. We are just now getting into formal training, e-collar conditioning and off leash training and she is rocking it!I don't think you could make a better choice than one of Simona's dogs, especially as a SD – please let me know if you have any additional questions. Best,
Christine, TX
***
My whole experience with Simona at Dances With Wolves Ranch has been nothing short of amazing. Before i even put a deposit down Simona answered all the questions i had right away and was always so kind. We had Willow shipped over here to New York and i was nervous about how that would have effected her. But when we picked her up she was smiling and ready to go, slept the whole car ride home too. We got Willow at 8 weeks old and she already knew to use the bathroom outside and had no problem sleeping in her crate throughout the whole night. She is the chillest and smartest puppy i've ever met. Simona did such a great job matching her with our family. Not only does Simona answer any question you have for her after you have your puppy, but every person that i've talked to who had gotten a dog from her have also been extremely friendly and helpful. Hands down one of the best decisions i've ever made. Also, these dogs are the most angelic, beautiful dogs out there. Everyone that has met Willow agrees that she is the most perfect puppy. If you're going to get a white swiss shepherd DWWR is the best out there.
Samantha, NY
***
Piper is a mellow, sweet, highly trainable puppy and from the time that I got her to now, a few weeks later, I marvel at her temperament. It is clear that you breed for temperament and I do not take that for granted. Piper's  physique is beautiful and I appreciate how her hips are not very angled down and also how easily her coat sheds the dirt. Simply put, Simon's dogs reflect the best of this breed in health, temperament and beauty.
Dawn, MA
***
"We cannot be happier with our puppy Snow from DWR.  On our walks many dog owners comment how beautiful Snow is and well behaved as a puppy and how lucky were are to have him.  We did the puppy academy, and we received Snow proficient with basic commands and well on his way to being house broken.  I took him to work right off the bat,  could sit still for an hour car ride and sleeps quietly at my work place. We have small children and he is very patient with them.   Simona is professional in her dealings and very effective in communications. I highly recommend DWR, the extra investment it is well worth it."
Thomas, IL
***
My whole experience was very pleasant with Simona.  From the beginning she answered all my questions.  I personally visited the DWWR for pick of the litter, and all the dogs are very well cared for and happy.  My puppy was in the puppy academy class and came home knowing some basic obedience and sleeping all night in her crate.  What really surprised me was without giving  a command, she sits when she sees I have to put on her leash, and when finished from outside, she sits for me to take it off!   No struggles!   She is a healthy and happy puppy with the best demeanor, and beautiful. People will for sure stop you to meet your DWW puppy and ask about the breed.
Kristen, Iowa
***
My experience working with DWWR has been a joy from start to finish. We waited a year for our girl and it was worth every second. Our puppy rocked the airport and plane ride home – quietly alert then sleeping the remainder of the time. Our first few nights home were awesome – watching our smart little pup figure out potty training, crate training, and her boundaries was an incredible experience. She picked everything up so quickly and our friends and family were in awe with how intelligent she is. Simona was not only a delight to work with, sending pictures every week of pup's development, but she also demonstrated her expertise in pairing us with our perfect dog. We cannot imagine a better fit for our family. Thank you Simona and DWWR for our best adventure yet!
Emily, CO
***
After the passing of our beloved German Shepard, we were heart broken. When we found Simona and Dances with Wolves Ranch, we knew it was a match made in heaven. Simona is extremely knowledgeable and immediately made us feel like family. She is always available to answer questions, and make you feel comfortable. She helped guide us to the absolute perfect puppy for our family and we are forever grateful. Our little Krikit has exceeded our expectations and is the most loving, smart, well behaved, loyal, sweet, and cuddly puppy ever. Our hearts are full.
Lisa, CA
***
I highly recommend Dances With Wolves for the most beautiful well bred BBS on this planet.I cant thank you enough Simona for taking care of all aspects in adopting this wonderful pup,to me and my family we hit the jackpot with Rocky!!
Robert, NY
***
I just wanted to reach out to you foremost to tell you what joy Czar has brought to our family.  He turned 4 months old today and I had him to his vet for a check up and he weighs 44 lbs. and the vet said he has never seen such a happy and healthy dog .  I have read some of the testimonials on your web site and they speak for themselves however I also wanted to add that after owning and growing up  with either one or two shepherds always my whole life , over 60 years , Czar is different than both the white and black previous shepherds , that I have owned .  He is beyond smart , learns something new every day , very observant and obedient , and loves the family beyond belief .  He is also very social with people and dogs and with his stunning good looks, he is a magnet for people attention wherever I go with him.  A morning visit to Starbucks , stops all activity in the place with everyone wanting to pet and learn about him ……….. is not shy about receiving the admiration either !  He also just loves to play like all puppies I suppose however his stamina is incredible as he will out run grown dogs and keep running circles around them , just never tiring ……….. he is a real strong pup and when walking in the wilderness with him he clearly has hereditary wolf instincts as he searches out birds and animals in the brush and is not afraid of any confrontation. With no training he instinctively has decided that he has to guard the house , even though we have a 10 year old black shepherd that looks at him with disbelief when Czar charges to the front door and let out a small Woof whenever he  sees someone outside .I was so happy to have you put him through your puppy academy  because the day  I received him after he was only 13 weeks old and having gone through the academy, he has never had an accident in the house or my office where he spends his days with me, and regularly asks to go out to do his business ………… amazing in that sense and the money was well spent after I saw the results .  Furthermore,  I have never had him on a leash and expect him to follow me be it down the beach , in the park or simply walking to a store , where I do put him on a leash to go inside ……….. he bonded with me immediately and has unwavering  loyalty ………… he is a male however  loves to introduce himself to ladies for some reason and they can't resist him either! So simply —- Thank You and I will keep in touch as he progresses with photos and stories………..
Igor  Laguna Beach, CA 

***
We adopted our little girl Rigi from Simona and couldn't be happier with our experience. Simona was in touch with us throughout the whole process, giving us updates and valuable information about adopting from out of state. She's also readily available anytime we've had questions or needed advice since we brought our puppy home.  If you adopt with Simona, follow her "puppy tips" list. We got it all, the books (in advance), the food, the cot… it has all been extremely helpful!
Rigi is so bright, loving, and beautiful- she truly has exceeded our every expectation. Within a month of being home with us, she  has learned sit, stay, come, lay down, and is almost completely potty trained. She is also politely walking on leash (most of the time). She is so wonderful with our cranky old cat, all our family, neighbors and friends, and is a favorite at our vet too!
We love Rigi more than we could have ever imagined. She makes every day so fun with her wonderful positive energy and loving nature. We are already certain when it's time for Rigi to have a sister, we will be in touch with Simona
Janelle and Tom Denver, CO
***
Wow. What a truly beautiful journey my family and I just took with Simona and her Dances With Wolves Ranch. With the passing of our white German Shepherd, we were on the search to find another one. We've had German Shepherds for many years now, so I found myself diving into different breeders around the country to find the perfect fit….and well…..did the stars ever align when we discovered Dances with Wolves Ranch!!! I had never even heard of the BBS breed, and after devouring every inch of Simona's incredible website, we knew we had to experience these incredible dogs for ourselves. I was so impressed by the very first communication I had with Simona. She was prompt in her reply, thorough in her answers, kind, funny and my goodness does she LOVE her dogs. DWWR pups are exceptional. Simona has taken the art and responsibility of breeding to a whole new level. The time, care and commitment she puts into her breeding program is hands down the best I have ever experienced. Simona is my breeder for life. The entire adoption process with Simona has been outstanding. From learning about the lineage of our pup, having Simona as a constant resource, to the exciting puppy updates and pictures along the way, we couldn't have asked for a more special experience. And the sky nanny service Simona found is fantastic!! My sky nanny stayed in contact with me right from when our pup was picked up at Simona's, all the way through the flight. Including adorable pictures of him sleeping on the airplane seat:-) It was awesome! We have had our DWWR pup for almost 6 weeks now, and words cannot express how this little guy has stolen our hearts. The temperament and personality of this dog are unbelievable. A true testament to all the hard work Simona has done with her breeding program. He is calm, confident, playful, attentive, smart, loving, responsive, curious…… He has responded so well to our smaller pets, and shows the utmost respect and playfulness to our other Shepherd gal. And the pure beauty of Simona's dogs is hard to encapsulate into words. Let's just say, we are endlessly stopped in the street with people inquiring about what kind of dog this breath taking creature is. DWWR pups are absolutely STUNNING!My family and I could not be happier with our DWWR pup. Simona has made every step of the process warm and personal, and you know she has everyone's best interest at heart. It is rare nowadays to find someone with the level of upstanding character and true commitment that Simona has for her dogs, and to her future DWWR families. It is an absolute honor to have one of Simona's puppies. I am thrilled and truly proud to be a part of the DWWR family.
Meagan, WA
***
My wife and I spent nearly two years researching and considering the right dog for us. After seeing a BBS on a hiking trail years back we were struck by the breed's beauty and so we set out to learn more. After a good bit more research, we were fortunate enough to find DWWR, Simona and eventually our Beau. As you can see from the website, Simona is organized and thorough and I believe the vast majority of what you need to know is available there already. That said, Simona was very helpful, friendly and responsive with our questions throughout the entire process of deciding on and then eventually collecting our puppy. She was and continues to be wonderful in every way, making the experience enjoyable and comfortable for us (first time puppy owners).Once we decided on the breed it was important to us to find a breeder that offered the best opportunity to provide us a trainable, happy and healthy puppy that could grow into a happy and healthy dog. DWWR is most certainly that place. Growing up on a ranch in the first 8 weeks of his life has no doubt had a tremendously positive impact on Beau. As you have already probably read, BBS have a lovely and friendly temperament, making them great family dogs that get along with people and other animals. Even as a young puppy, Beau has been amazingly calm with strangers (especially small children), other dogs and other animals. We have gotten many positive comments about his tranquility and good behavior both at outdoor restaurants where he quickly sleeps under the table or in the dog park where he is bouncy and sweet with all other dogs. One thing that seems to be mentioned online is that BBS can be shy and skiddish – we have not found that to be the case with Beau at all and expect it likely has to do with his time at DWWR and the four weeks we chose to do with the Puppy Academy option. Before coming to us Beau had clearly already been socialized very well, given he walked onto the Manhattan streets (where we live) with little trepidation and has been fearless when it comes to loud noises or lights and wonderfully curious overall. As first time puppy owners we are so happy we did the Puppy Academy. After only a few (literally single digits) accidents at home in his first week or two of getting settled, Beau has been completely house broken with 0 accidents since. He also already had a great start on "sit", "stay", "off" and other foundational commands. Daily training is obviously a must to keep moving forward, but the combination of the Puppy Academy with the intelligence and trainability of the breed has made for a relatively easy start to life with Beau. We couldn't be happier with our choice to get a BBS and our experience with DWWR and Simona. I would absolutely recommend the breed as well as working with her.
Joseph, NY
***
 I'm so happy I found Dances With Wolves Ranch and Simona Ridenour!! After the sudden loss of my beloved Sweet Pea, I started looking for a new best friend.  Sweet Pea had the sweetest disposition, everybody loved her! I wanted a similar disposition, and I read about White Suisse Shepherds,  and they sounded perfect!  And so beautiful!  I was also really concerned about finding a healthy dog.  Started looking and found Simona!  We were very impressed with her credentials and health guarantee.  I applied. And right away Simona responded and immediately accepted me!! I was so happy!! I happily sent my deposit and waited.  Then I received the best news, a puppy was born!!!  And she was for me!! I booked Hope's sky nanny service on Simona's recommendation, and Dallas flew in with her!!  It was all so perfect and a dream come true!! To own one of the most beautiful dogs I have ever seen!  Pearl is my dream dog – I will give her the best life!!  Thank you Simona!!!
Leisa, FL
***
Wanted to reach out firstly to say thank you SO much for Otto. He's such a bright light in our life.  He is happy, healthy, gentle, friendly, incredibly smart, SO well trained, gets along with kids, cats, people, dogs. He was so well conditioned to all different sorts of sounds and noises when he came to us that I feel like we got super lucky finding you and getting him. Every single time we go outside, I have someone ask me what breed he is, and where we got him. EVERY. SINGLE. TIME. I'm not exaggerating. I wanted to touch base and ask if you are going to be breeding black GSD? I saw that you are selling Myrrh and have Storm as well but both were imported. I am asking just because I will be wanting either another BBS or Black GSD to pair with Otto in about 1.5-2 years.  I've been converted and basically only trust buying dogs from your ranch now. But I know your waitlists fill up quickly and wanted to check in to ask how often will you be selling black GSD/when you suggest putting down waitlist for 2 years out. Thanks again and let me know!
***
My family are experienced with large breeds, but we've never had a shepherd.  We always wanted a dog with the loyalty and intelligence of a shepherd but without the aggression.  The puppy we received from Simona is a dream come true. Our pup is now 5 months old, and I cannot say enough good things about his temperament and training (we also signed up for the Puppy Academy). For the past few weeks everyone has been commenting that he is the best-behaved toddler they have ever met! We live in a big city, and we were concerned about the transition from the ranch – but his adjustment to the noise and hectic pace of the city has been beyond our most optimistic expectations! The great looks are a bonus – it's been fun to watch him gradually change from a cuddly teddy-bear-like pup to a beautiful, gentle, wolf! Simona was absolutely wonderful throughout the process.  Because of the pandemic, we could not visit DWWR, so we relied on testimonials as well as instinct, and trusted Simona with important choices (including the picking of the pup). She is knowledgeable, responsive, no nonsense. It is clear that for her this is not just business, she cares about the dogs. We have found her advice to be spot on – from the suggested food to the preferred dog bed!
Penny, New York
***
I have owned beautiful white shepherds from breeders in the US for over 40 years and Simona is by far the most qualified. I have not seen a world champion line this perfect in disposition, beauty and athleticism . I have not been this impressed with a breeder and facility in over 40 years. The ranch is impeccably kept and the dogs are friendly , loving, healthy, and happy in a home environment . Simona has excellent qualifications in the field of animal behavior, genetics and research which I personally have not encountered in the breeding world.
Simona has communicated timely and openly with me through out the adoption process , updating me with news concerning my litter , their birth and development. I also received beautiful photos of the puppies every few weeks after their birth . Simona has been very kind , helpful and just a wonderfully knowledgeable person. I received a date for the pick-up of my puppy immediately and coincident with my schedule. Simona was very accommodating and flexible with pick-up times. (I took a flight to airport near her ranch the night before and picked up my puppy in a rental car the next day to drive back home. Simona texted me often to see how the puppy was doing and if we arrived safely. Simona also followed up with us the next day and gave me a few tips on his adjustment. My puppy is only 10 weeks and the local trainer I use is so impressed with this pup's intelligence, disposition and beauty. He is so smart and joyful .The trainer has been handling dogs and other animals for over 19 years and is smitten with him. As you are fully aware, the breed is just absolutely beautiful with perfect pigmentation. (I have always been partial to long hair white coats) I am also so pleased that the Swiss Berg does not have over-angulated hips . Simona is so helpful when I have a question and welcomes updates on her puppies. I honestly recommend this facility and breeder to anyone who seeks the highest-quality of dogs and seeks a stress-free adoption process with the kindest of women. We are so impressed with this puppy that we have placed a deposit on a second puppy from Simona . A world class line with impeccable healthy histories and gentle dispositions is what you are getting if you are lucky enough to receive a puppy from Dances with Wolves.I am not exaggerating when I testify to the absolute professionalism exhibited by Simona , her staff, and the absolute gorgeousness of these puppies. We are so delighted with our puppy. Everyone who meets my puppy falls immediately in love with his adorable personality, happiness and boundless energy. I will be staying with Dances with Wolves Ranch and am completely confident in referring you to to this world-class, family-oriented establishment.
Ingrid, NM
***
As a new professional dog trainer, I was looking for the perfect puppy to become my demo-dog.  Finding Dakota has been my dream come true.  Not only have I found the perfect puppy (calm, steady, happy, always smiling and a REALLY QUICK STUDENT), but I've also found the perfect breeder. Simona does all the things that one wants from a good breeder.  She takes great care in selecting the best parents, from both a conformation and temperament aspect, and is starting a stunning breed line here in the US of the Berger Blanc Suisse.  She has worked at giving her new-born pups the best start in life with the appropriate amounts of love, care, exploration and socialization for their age, and has been professional and open in her contact with us throughout the adoption process.  I couldn't be happier, and am looking forward to the next decade plus to a wonderful life with my Dakota (Apache Spirit Dances with Wolves).  Thank you Simona! 
Karen, NJ
***
I've been very impressed with Dances with Wolves Ranch, specifically Simona Ridenour and her Berger Blanc Suisse dogs.  I've found Simona to possess all of the qualities I look for in a breeder; honesty, integrity, knowledge, enthusiasm, and the patience to educate a client that wants to learn everything about the breed and her specific breeding lines.  Check Simona's credentials.  She has the academic background and the practical experience to place her, in my opinion, among the very top of breeding professionals. Simona was nice enough to accommodate my schedule for a visit to her ranch to see the dogs, the puppies, and the facilities.  I found her facilities to be immaculate and well organized with beautiful construction and landscaping.  All the animals were happy, energetic, friendly, and healthy.  I was impressed with her health and training philosophies, as well as her "family-approach" to raising her animals. I appreciated Simona's quick response to questions, and constant updates on the puppies, from conception through her Puppy Academy basic training experience.   She handled all aspects of shipping the puppy across country after training.  I received a happy, very healthy, and confident puppy that quickly assimilated into the family.  I could not be happier with this puppy.  I believe the training he received at Simona's has provided an exceptional foundation for his tremendous potential. In summary, I would recommend Dances with Wolves Ranch to anyone interested in this breed.    Although this is my first experience with the breed, I'm impressed with everything about this dog.  In over 40 years of owning dogs, I've never had a better experience with a breeder and I'm very excited about the future with this breed.
Joie, VA
***
My experience with Dances with Wolves has been awesome. Every aspect has been excellent – starting with the stellar communication even before our puppy, Hugo, was born. To put it briefly, we have the perfect specimen of a Berger Blanc Suisse – our beloved Hugo. The fact that we achieved this 'perfection' is no accident. Simona Ridenour is a brilliant breeder and developer of dogs. She has a degree from a prestigious University coupled with a talent with animals that cannot be taught. I bless the day that I met the Ridenour clan – you have the perfect environment plus a super abundance of love.
Allen, CA
***
Bringing a new puppy into the family was a big decision, one which our family did not take lightly.  We researched what felt like hundreds of breeders and when we found Dances with Wolves Ranch we were very impressed with Simona and her beautiful dogs.  Watching our Misha grow and learn each day has been an amazing experience and everyone we meet absolutely loves her.  She is the sweetest, smartest dog, not to mention she's gorgeous.  Thank you, Simona for raising such beautiful well tempered dogs.
Kristina, CA
***
At 5 months old, Apollo is sweeter, friendlier, and smarter than most human beings!  He already weighs 60 pounds and there have not been any health concerns at all.  My family has always owned large breeds and I grew up around great large breed dogs….but, Apollo is the most intelligent and fast-learning dog I have ever been around and it already feels like we have been best friends for years. He has been extremely easy to train, socialize and bring any where I go.  Not to mention his good looks of course, which cause people to stop whatever it is they are doing to stare and wonder what breed it is.  There have already been many people asking me to have one of his future puppies and I will be sure to connect them with you!                                                Eddy, CA
***
In regards to purchasing our first puppy, we were very impressed with the professionalism and friendliness of Dances with Wolves Ranch. Throughout the waiting period of getting our puppy, we loved that we could watch him and his siblings grow via the Internet. This provided reassurance that are puppy was growing healthy! We were also able to further establish our relationship with the Dances with Wolves Ranch. Once we received our puppy, we were again delighted to have such a friendly and knowledgeable breeder! We left the ranch knowing we had just been added to a wonderful family! Now having our puppy for a couple weeks, we couldn't be happier with our choice of breed! Our puppy, Thor, is intelligent, playful, and extremely loving. He has been a joy to train, love and play with! Such a fast learner!! We cannot wait to see how much he will learn and grow over the next few months along with showing his handsome self to the world! We are forever grateful.
Lindsay, CA
***
My fiance and I researched many breeders before finding Dances with Wolves Ranch. From our first interaction to the day we picked up our little girl, it has been a pleasure to work with Simona. She has been responsive, professional and kind throughout the entire process. Simona's active Facebook page was (and still is) so much fun for us to follow! I cant tell you how much fun we had watching the puppies grow up before we got to take one home. From their first days to the first time they had solid food – we got to see it all. It was also reassuring to know that the puppies were growing up in such a loving atmosphere around lots of children and different animals. We can't thank Simona enough for helping raise Tala in her early weeks and Simona's continued support over e-mail, phone and Facebook. Tala, our baby girl, is a joy and bright light in our home! She is confidant, social and just overall so so happy!! The happiness Tala brings to our "pack" is priceless – we are forever grateful to Simona and Dances with Wolves Ranch.
Brandon & Elisa , CA
***
I've had dogs all my life.  A Cocker Spaniel, a Collie, and two Labradors who combined lives stretched over 45 years of companionship.  But this is the first time I've ever had a Shepherd.   It won't be my last. Zorro is only four months old and already he is exhibiting very calm, adult behavior.   He listens extremely well and responds to commands like a pro.  He is also absolutely beautiful.  In fact, he literally stops traffic.   I cannot count how many times we have been taking a walk and either a car will stop, or a jogger, or another dog owner and ask what breed is Zorro and comment that he is the most beautiful dog they have ever seen.   Their praise is usually followed by, "And he's so well behaved for a puppy!".   As much as I would like to believe that his manners are a result of my training, I know they are inbred into his genome – and I'm just the lucky recipient. I cannot recommend this breed more and look forward to many, many years with him at my side.
JP, CA
***
I grew up with German Shepherds and I've been a dog lover forever.  From day one, my husband and I fell in love with the White German Shepherd breed.  We've had a total of 5.  After putting down our 13 yr. old, Molly last summer, we started to look for a new sister for our 5yr old Cayley.  She was so lonely and depressed, after losing Molly.   I contacted Simona after reading about her White Suisse Shepherd breed.  That was an amazing experience talking with her and learning about this remarkable breed, not to mention her background connecting with this breed in Europe, then bringing it to the US.  We then signed up for one of the females she had available in a new litter! My husband and I drove over to Agua Dulce, California and met up with Simona and her wonderful family, and then….the most magnificent White Suisse shepherds, moms and dads, we had ever seen!  Then there they were, the male and female puppies, now 8 weeks old, wagging their tales.  They all looked like adorable white stuffed animals!  Simona handed us our new little girl, we named Tasha.  It was a love fest immediately!  Even though we hated to take her away from her parents, she was such a love bug for the 6 hours driving back to Phoenix.  She and our 5-yr- old Cayley have been best friends ever since. They constantly play, have love-athons, and run after each other all the time.  Tasha listens and pays close attention to all our sayings and rules.  She is also quite the eater!  Tasha loves people, licks them constantly. We are beyond thrilled to have found this extraordinary White Suisse Shepherd breed.  We are recommending Dances With Wolves to everybody!  Our trainer that we've used for several years is likewise very impressed.  It's been an honor to have connected with Simona.  She is an exceptional breeder, to say the least, and has such a special passion for these dogs!  We are so blessed to have Tasha in our family.
Leslie and Don, AZ
***
Willow's sweet and playful soul has been the perfect addition to our home. This was my vision when I first met Christmas at the OC Pet Expo.  The puppy has surpassed our expectations.  She is sweet, smart, and been bonding well with everyone…Thanks to you our small family is now complete!
George & Tiffany, CA
***
I just wanted it say that I am happy we went to your ranch that one fateful day to see the pups. Fourteen you had. May I say what a commitment it is to take care of so many pups and dogs. You have a lot on your plate and you love the responsibility! Only someone who loves the things they do, are happy with their life! It shows that you are You are have been helpful and easily accessible to the pet parents, informing us of what is going on with pictures and updates. You make it so we don't miss a thing. From the moment the mother goes into labor we get to know what is going on. How many pups, what they look like and how they are doing! It was a great experience. The pups are treated with care by not only you but everyone in your family! We share a connection now with our dogs and it's a great feeling. For anyone contemplating on purchasing a dog, I highly recommend Simona because of all the things I stated. You can have faith that your dog will be healthy, loved and cared for, and for me that each dog has been accustomed to being with children and exposed to so many things before he arrives with you. Its a gigantic head start. I went ahead and opted for the puppy academy which was worth it! Honestly if you have a busy life style it will help you that much more to get used to your new life with your dog.
Rene & Adriana, CA
***
My experience with Dances With Wolves Ranch, Simona, and her amazing Berger Blanc Suisse dogs has been wonderful from the beginning. Having never owned a dog before, I spent a long time researching breeds to find one that would fit my lifestyle. I learned about the Berger Blanc Suisse breed, and it seemed like a perfect fit – smart, loyal dogs with warm personalities (cat and kid friendly!), and beautiful to boot! I had never encountered a Berger Blanc Suisse in person, and Simona generously invited me to meet her dogs on her lovely ranch. I was very impressed by her knowledge of the breed and obvious love for her pups, as well as the dogs themselves! I was smitten and signed up for a puppy two litters down the line. Simona kept in contact with me during the months while I waited for my pup, and kept me updated about the litter progress. I expressed an interest in a calmer, affectionate female puppy, and thanks to Simona's great intuition of puppy personalities, my girl, Luna, is by far the sweetest, snuggly-est, most well-mannered puppy I have ever seen! She attended Puppy Academy, and I got to see lots of pictures of her progress. She is totally confident and socialized, loves other dogs of all kinds, gets along with the family cat, and sleeps through the night. She's an angel (and all my friends with puppies are jealous!). I can't speak highly enough about the Berger Blanc Suisse breed and Dances With Wolves Ranch. Thank you Simona!
Lily, CA
***
Bringing a new puppy into the family was a big decision, one which our family did not take lightly. We researched what felt like hundreds of breeders and when we found Dances with Wolves Ranch we were very impressed with Simona and her beautiful dogs. Watching our Misha grow and learn each day has been an amazing experience and everyone we meet absolutely loves her. She is the sweetest, smartest dog, not to mention she's gorgeous. Thank you, Simona for raising such beautiful well tempered dogs.
Kristina, CA
***
My family and I owned a long-haired shepherd for years. She was beautiful, smart, gentle and obedient! We thought we would never find a dog so special. We searched the internet and finally found Simona's beauties! However, our question was: Are Simona's dogs as smart as our Jesse was? With her credentials, we decided to purchase Misty. Misty is not only beautiful, but just as smart, gentle and obedient as we had hoped. We have no regrets whatsoever! As cute as she is now, as a puppy, I can't wait to see her grow into a beautiful young lady. I can already tell, she will not disappoint. Not only did we receive a special shepherd, but our experience with Simona through the entire process was honest and professional. I highly recommend Simona and her precious packs.
Paula, FL
***
I've been very impressed with Dances with Wolves Ranch, specifically Simona Ridenour and her Berger Blanc Suisse dogs. I've found Simona to possess all of the qualities I look for in a breeder; honesty, integrity, knowledge, enthusiasm, and the patience to educate a client that wants to learn everything about the breed and her specific breeding lines. Check Simona's credentials. She has the academic background and the practical experience to place her, in my opinion, among the very top of breeding professionals. Simona was nice enough to accommodate my schedule for a visit to her ranch to see the dogs, the puppies, and the facilities. I found her facilities to be immaculate and well organized with beautiful construction and landscaping. All the animals were happy, energetic, friendly, and healthy. I was impressed with her health and training philosophies, as well as her "family-approach" to raising her animals. I appreciated Simona's quick response to questions, and constant updates on the puppies, from conception through her Puppy Academy basic training experience. She handled all aspects of shipping the puppy across country after training. I received a happy, very healthy, and confident puppy that quickly assimilated into the family. I could not be happier with this puppy. I believe the training he received at Simona's has provided an exceptional foundation for his tremendous potential. In summary, I would recommend Dances with Wolves Ranch to anyone interested in this breed. Although this is my first experience with the breed, I'm impressed with everything about this dog. In over 40 years of owning dogs, I've never had a better experience with a breeder and I'm very excited about the future with this breed.
Joie,  VA
***
We are impressed by how quickly Ghost is able to pick up commands. By 3.5 months, he already knows his basic commands. Additionally, he has learned to roll over, stay and is working on the command "calm." When we walk him, people can't help but to stop us to tell us what a beautiful dog he is. They also marvel at how well behaved he is for his age. Being a first time puppy owner, Simona has been very helpful with training tips and advice to us. Simona is the type of breeder who really cares about her dogs.
Betty and Ed, CA
***
I can't recommend Simona and Dances with Wolves Ranch enough – we feel like our dog is a gift that's even better than expected. I have had 25+ years experience with northern breeds and was attracted to the BBS looks (similar to my previous dogs) and temperament (not at all like my willful Samoyed). Never did I imagine just how sweet, smart and loving our dog would be. She is a pleaser, and just a delight every day. Simona was terrific through our entire process, from consideration to pick up and beyond. She's a great resource for information, kept us informed with weekly pictures from birth to eight weeks, and was both warm and professional. I trust Simona entirely, and am grateful for her attention to "best in breed" practices, all of which culminated in the best dog we've ever had.
Paige, CA
***
After months of searching for the perfect pet for our family we decided on Dances with Wolves Ranch. We could not be more pleased with our decision and our puppy. He is an even better dog than we could have hoped. When you look at Simona's website, it is obvious that her dogs are beautiful. Our dog is absolutely stunning. Wherever we go, people are constantly admiring him. What the website doesn't show is the intelligence, good nature, and temperament of her dogs. Our puppy was able to learn basic obedience and house training almost as soon as we brought him home. He is always calm, even around young children and other dogs. I think his best trait is his desire to please. He is constantly looking towards us for approval and direction. It makes it easy to train him and to teach him. We are so grateful to Simona for providing us with a wonderful addition to our family.
Michael, CA
***
I just wanted to write a little note to let you know how well Aspen is adjusting to her new home! First off, I absolutely love her. She is a happy, affectionate, confident, curious, and super smart little girl! From all of the reading/research I did before she came, I was expecting this whole transition to be much tougher, but oh man, have I been happily surprised! Everyone remarks that she is the best puppy they have ever met and I wholeheartedly agree!  She's been sleeping through the night in her crate, accompanied me on many walks throughout the city/nearby parks, and slept at my feet when out to lunch or dinner with friends. She is head over heels in love with my older dog, Luka, (I think she would follow him to the ends of the earth) and he's been so wonderfully patient with her puppy playfulness. She has had a couple accidents, but I think we're getting the hang of it and am sure we'll master it soon! We went to our first puppy agility class yesterday and even though Aspen was the youngest pup in the room and it was her very first time, she caught up to all of her classmates by the end of the hour! She did the table sit, a-frame, tunnel and jump like a champ! The trainer was so impressed and I was just overflowing with pride! I can't wait to see her progress.  I just wanted to share how well she's doing and how loved she is in her new home. Thank you for shaping and training such a wonderful dog; we're going to have a great life together.
Lily, CA
***
Thank you so much for sharing your dogs with everyone. I was at the Pet Expo yesterday and was highly impressed by Dances with Wolves Ranch breeder Simona. She was a wealth of knowledge and has a true love for this amazing breed. Best breeder I have ever met…look forward to eventually purchasing a dog from you.
Christine, CA
***
We selected Dances With Wolves for our puppy and we could not be more satisfied. This was our first puppy in our small family and we needed to depend upon the owner a lot to help us with the right fit for our new addition to our family. We live in Montana, Simona is in California! Simona helped us with all of our questions and took great time and care in picking out a puppy for our daughter that would fit in well with her and our lives in Montana. Our new puppy "TOM" is the most wonderful puppy you can imagine. The dream dog: Affectionate, smart, gentle, fun, super loyal, happy, and even reserved for a puppy when he should be and goofy when its ok too. All at such a young age, not all what I expected out of a puppy. It's a testament to Simona's breeding program. These dogs are really dialed in and worth every penny as a new member to your four walls. I cannot recommend this dog breed more nor enlisting the guidance of the owner to assist you with your puppy. We never met Simona face to face, all was done via email and internet. I picked up our dog at the airport in Seattle and we shook hand-paw at 8 weeks. It was love at first sight and he was so well matched for our lives and what we wanted in a puppy. So happy. Thankyou Simona!
The Wade Family, MT
***
We love our 3 month old Berger Blanc Swiss Shepherd puppy, Marco. We are so grateful and appreciative to Simona Ridenour for raising and nurturing this amazing Swiss Shepherd. Marco is everything we hoped he would be. He's incredibly smart, sweet and funny. He's gorgeous. He has wonderful manners. He is totally at ease with people and other animals, while having a healthy skepticism with strangers. Marco is surprisingly strong and coordinated for his age (3.5 month). He has mastered stairs after a few test runs, and he gallops across the yard like a small pony. He knows how to catch and retrieve a small rubber ball. He sits quietly when he meets someone new.  And he knows how to cock his head with mock surprise when my husband or I fake bark, or try to sing. Makes us laugh every time.  Simona coached me through the whole process of selecting and bringing Marco into our lives. We are impressed. The Dances With Wolves Ranch is an ideal place to breed and raise Swiss Shepherds. Simona designed the ranch with love, and obvious thorough expertise about the breed.
Tate, CA
***
We both had dogs growing up – Golden Retrievers, Newfoundlands, Great Pyrenees, and were so excited to bring home our first puppy together. We researched and visited some wonderful golden retriever breeders in our area, but came across Simona's website and fell in love with her dogs. After careful consideration and a visit to California to meet Simona in person, we fell in love with the breed for their temperament and beauty. Noura arrived to us as a happy and healthy puppy. She is well known and loved around our neighborhood for being an loving, outgoing, playful and obedient pup. We love to take her around the city, on weekend trips to suburbs and beach towns in the Northeast. She is fantastic in the car and adapts quickly to new environments. Thank you, Simona for the wonderful addition to our little family – we couldn't be happier and can't wait for more adventures with her.
Jacquelyn, NY
***
I first reached out to Simona over a year before I would eventually receive one of her puppies. I was considering getting my first dog but had many questions and loose ends to take care of before taking the plunge. Simona was consistently prompt and polite in responding to my plethora of questions and concerns. Her breeding program is certainly among the best and now that my puppy, Luca, has been with me for a few weeks, I can assure you that you will not be disappointed if you chose to join the Dances With Wolves family.As a first time dog owner, I was concerned about my puppy getting the right start to life. I was unsure of my own ability to make the right choices for Luca during the critical socialization period when he would be at his most impressionable stage. As such, I decided to send Luca to Puppy Academy. Puppy Academy is hosted and run by a professional dog trainer, Debbie. Debbie has a close working relationship with Simona and the Dances With Wolves Ranch, but the academy occurs at a separate location (with regular visits for the puppies back to the Dances With Wolves Ranch). It was definitely the right decision and one I would recommend for anyone who wants to ensure a good foundation for their new puppy. Immediately upon receiving Luca, I could tell he was a well-adapted dog with confidence and an understanding of many commands (as well as a great ability to learn new ones!). Finally, I would like to also mention that if you are considering getting a puppy from Simona, which would require long distance travel, do not be concerned. Simona does a great job of ensuring a smooth process and that the airline details are all taken care of for you and your puppy will arrive safe and sound. Overall, I highly recommend Simona to anyone interested in this beautiful breed!
Alex, OH
***
I started researching breeds a year ago and I discovered this magical breed, white Swiss shepherd. After deciding on the breed I discovered DWWR after doing lots of research. I decided I wanted to become a mom to one of her sweet puppies because of their temperament and the show class quality of her dogs. Simona was in touch with me frequently throughout the entire process keeping me updated and sending weekly pictures when the liter was born. She also welcomed me to visit my puppy at her ranch before I picked her up at 12 weeks. Her genuine care and love for her passion is undeniable. I picked up my baby girl at 12 weeks in May and to say she is the most magical pup I've ever met is an understatement. I kept her at the ranch to do Puppy Academy training and I am so glad I did! The training was excellent and Elsa was potty broken, understood basic commands and never jumped up on me or any other person. I have now had her home for 5 weeks and my girl Elsa is sweet, smart and very cuddly, just what I was hoping for! I highly recommend Simona and her pups if you're interested in this breed but also for a life changing experience!
Jennifer, CO
***
My husband and I both grew up with dogs – collies, border collies, spaniels, etc. Our first family dog was a laborador, Cody. He was wonderful. When he passed away at age 14, we researched breeds exhaustively – anxious to pick the "right" breed for our family and hopeful of finding a dog we adored as much as we had Cody. After six months of reading about dogs, I landed on Berger Blanc Suisse and felt confident this breed was an ideal fit. Simona's organization, responsiveness, dedication to the breed, and responsibility in breeding was compelling. I was also captivated by the beauty of her dogs. Our newest addition, Kiba, is a constant delight. Our kids, relatives, neighbors, and friends are captivated by her sweet, friendly disposition. She has completed our family and I will be forever grateful to Dances with Wolves for creating such a wonderful companion.
Shannon, CO
***When we decided to get a puppy, we began an epic research project that somehow serendipitously led us to Simona and her Berger Blanc Suisse dogs. Every interaction with Dances with Wolves Ranch was welcoming and assured us that we were not just picking a great breeder, but joining a close-knit community (pack?). We discussed the type of puppy we wanted with Simona; We wanted a cuddler. Sweet and family-oriented. Submissive enough for first time puppy owners to train, but adventurous enough to be our partner-in-crime on weekend adventures. It wasn't until we went to the DWWR to pick up our new puppy, Yuki, that we knew how well Simona had delivered. Yuki is all that and more. A big factor for us picking DWWR was Simona's puppy training academy. Both of us work full time, and we wanted to ensure that our puppy would get the best possible start in life, even if we had to work. After completing
her 4-week program, Yuki could do all the basic commands and had a fabulous socialization. It's worth noting that Simona's pups not only come with great tempera-ments but they are breathtaking. Yuki gets compliments literally every time we take her out. On the rare occasion that Yuki is standing next to a BBS from another breeder, the hard work that Simona put into crafting the perfect BBS bloodline is immediately obvious. We're happy to be members of the DWWR pack and the addition of Yuki into our lives has both created a sense of family and brought us joy be-yond words! Thank you, Simona! We love our BBS!
Orion, CA
***
We highly recommend Dances With Wolves Ranch for anyone interested in this wonderful breed.  For many years, my husband and I have been looking for the breed that perfectly fits our lifestyle. Once we found out about the white swiss shepherd and Dances with Wolves Ranch, we could not wait to meet them in real life. Simona has been amazingly helpful in answering all of our questions and being available for visits on a very short notice. Meeting her and her wonderful dogs made this life changing decision of getting our first dog extremely easy. It has now been about a month and a half that we have our little 'Ghost'and we could not be happier with our decision. Ghost has been extremely sweet, loving, pleasing and smart ever since we met her. This good personality and friendly behavior are clearly the results of the wonderful loving family environment she spent her first 8 weeks, combined with a remarkable family tree.  If you are looking for a sweet, loving dog who is very adaptable, extremely trainable, loves all type of adventures, is very social and loves being part of the family… Don't search further, the White Swiss Shepherd is the breed for you, and through Simona you will be sure to have the best possible
new addition to the family.