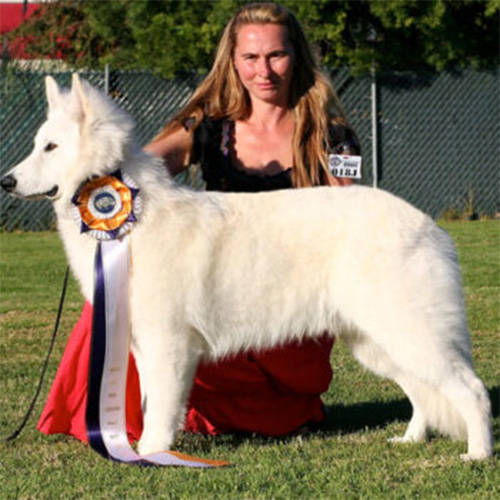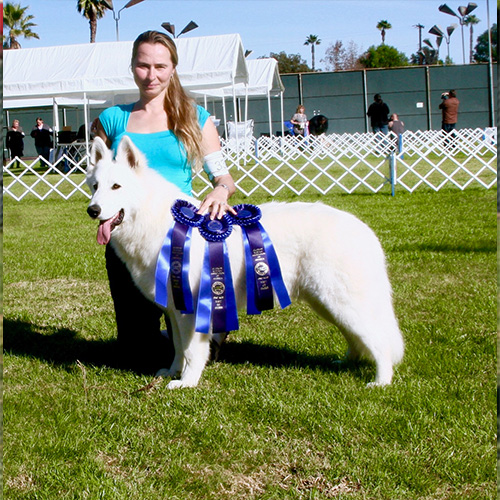 As a biologist with an emphasis on genetics and animal behavior (UCLA), I am especially particular about selecting the very best animals from around the world for our program. I have been following the evolution of this breed since 1988, long before it was officially recognized as a breed by the FCI in Europe. I was the first to establish a BBS breeding program in the United States. Because of this, and because I speak multiple languages, I am blessed to be in a situation where top breeders throughout western and eastern Europe reach out to me whenever they feel they have a special animal for me to evaluate. We've had dogs in our program from France, Sweden, Croatia, Spain, Poland, Russia, Czech Republic, Germany, and Serbia. Occasionally, we will also import frozen semen from top stud dogs in Europe to enrich our breeding program. Even though we have the opportunity to evaluate the pick of the litter puppies from the best breeders around the world, I typically evaluate dozens of animals before I accept one into our program.
The reason it takes so long to select breeding dogs is that we are uncompromising about finding animals that are exceptional in all of three categories: first, they must have an impeccable multi-generational health history, second, they must be "stunning" with a beautiful white coat, black pigment, ideal conformation and finally, as my passion is for service and therapy, each dog must have high intelligence, easy trainability, and well-balanced temperament. It is relatively easy to satisfy one or two of these criteria but very difficult to find them all in one animal.
Great genetics is only the beginning of creating great, well-balanced dogs. We also take extra care in the way our puppies are born and raised. All of our puppies are born inside the house surrounded by family.  They are exposed to all the things that happen in a household:  kids, radio, television, vacuum cleaners, visitors, etc.   We strongly emphasize constant contact with people, children, and other animals starting at birth.  This is a critical time for their socialization. When older, puppies move out into temperature-controlled "puppy palace" and have their own playground and a daily visit to our agility area.  They will interact daily with all of our ranch animals, the rest of our white pack, and all other visitors coming to our ranch. They will be exposed to different surfaces frequently, which is crucial for their sensory development.  Our  Puppy Academy trainees will have additional socialization and full-time puppy starter training.
Our process is more expensive than most breeders, but I believe our approach and passion about the breed produces some of the most beautiful, healthy, and well balanced BBS dogs in the world. All of our puppies will be under the care of our close family friend veterinarian who makes sure that the puppies are well and up to date with all their medical needs.  Puppies will be de-wormed and vaccinated on the recommended schedule and will be micro-chipped before they go to their new homes.
Our dogs are fed a combination of the highest quality dog food on the market and a variety of raw meat and bones.  This includes freshly laid raw organic eggs. There will be weekly updates and postings of puppy pictures for families to view their puppy's development in progress. At 7 weeks of age, all puppies will be temperament tested by me and assigned to the best-matched family's needs based on their energy level, lifestyle, and purpose for the new family member. Therefore, filling out our puppy application is very important to assure the best match of a puppy to a family.  Puppies go home to their families at 8 weeks of age unless they are part of our Puppy Academy.
We offer our  Puppy Academy option for our families. If you choose this option, your puppy will stay with us until they are about 12 weeks old and will go through an intense daily puppy training and socialization program.
We offer lifelong advice and support for our new DWWR puppy families. Because we only breed for service, therapy, and family pets (and not for further breeding) we do not register our litters with UKC or FCI. However, all of our breeding animals are registered, and we are happy to provide copies of the parent's and ancestor's lineage & pedigrees to keep if desired. We have worked hard to establish our program and we take great care to manage the lineage, as such, owners are required to sign an agreement to spay or neuter their dog by two years of age.
It is our goal that getting a puppy from us is a special and memorable experience. We would like to stay in touch for life and be an extended family. We always appreciate photos and updates on our puppies and their new families. Every year we have our annual DWWR reunion with our new families to hear stories, to allow puppies to visit with their siblings, and for me as a breeder to further build my relationships with our puppy families.
Please visit our Testimonials from our past DWWR puppy families and read about their experience with the DWWR process and join us on Instagram and  Facebook.